4 Situations That Need Temporary Fencing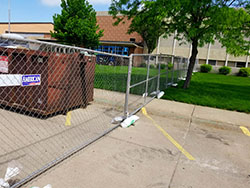 Permanently installed fences aren't necessarily the top choice when security needs exist on a temporary basis. In situations where crowd control measures are needed only for weeks or days—or even just a few hours!—it's more efficient to use barriers that can be easily disassembled and stored away for future use. Of course, in these situations, it's still incumbent upon you to take security measures. For example, documentation issued by the Ordinances of the Park District of the City of Fargo states that "[a]ny person renting or using Park Property shall be responsible for the maintenance of law and order upon the premises."
Situations where temporary fencing can benefit you include:
Concerts. When bands and other performing celebrities come to Fargo, they often play at venues such as The Aquarium, Sanctuary Events Center, and Fargo City Civic Center. Temporary fencing is not only viable for security but also for guiding traffic—both pedestrian and vehicular.
Weddings. It's someone's big day, and one does not want unsolicited visitors or fender-benders resulting because of confused traffic. Many organizers use temporary fencing to guide vehicles, point pedestrians in the right direction, and ward off people who're not on the list of invitees. After all, you can use fences to hang signs.
Tournaments. Whether it revolves around golf, tennis, or some other activity, public tournaments tend to draw considerable attention; and if one does not take precautions, the resultant fracas can result in disruptions and injuries. For which event organizers often become accountable. Use temporary fencing to separate tournament participants from spectators, to guide visitors from designated parking to designated viewing spaces, etc.
Construction projects. A prime example of a long-term situation (but still non-permanent) situation requiring secure fencing, construction fencing must permit convenient access to workers, inspectors, and other authorized personnel—all the while helping keep out spectators. After all, the crew does not need children and non-workers on the construction site; besides causing distractions and impeding progress, their presence can lead to injuries or damaged equipment.
Our division American Fence Rental is your #1 venue for temporary fencing in Fargo, ND. Whether you need chain link panels, freestanding panels, post-driven panels, barricades, or temp fencing with barbed wire add-ons, we can accommodate you!