8′ Temporary Chain Link Fence Panels in Fargo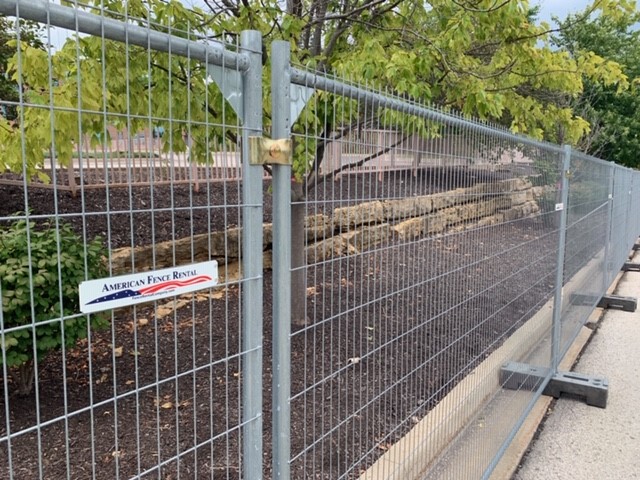 Temporary chain link fence panels is the security solution of choice for clients who only need to safeguard project areas for a limited time. Whereas homeowners and commercial property managers require protection 24/7, restricting access to a construction zone is only essential until the project's finished. The same applies to public events: once the event is over (usually after a few days or even a few hours), there's no further need for fencing originally erected for crowd control. In situations such as these, it's not practical to spend days installing traditional fencing when you can opt for temporary fence panels.
Of course, you want to be selective in picking out a rental fence contractor in Fargo, North Dakota; no two are identical in their dedication and flexibility—or in how thoroughly they develop products. When it comes to non-permanent barriers, American Rental Fence, a division of American Security and Gate Company, towers above the competition, and our 8' Chain Link Temporary Fencing is much in-demand. Retaining the security values of traditional chain link while boasting the perks of short-term installation, these long-lasting panels will safeguard hundreds of jobs.
Table of contents:
When are temporary fence panels useful?
Why should I use American Fence Rental's 8′ chain link temporary fencing in Fargo?
How are temporary chain link fence panels installed?
Should I purchase or rent temporary fence panels?
Why American Fence Rental of Fargo?
When are temporary fence panels useful?
As mentioned, rental fencing is practical for short-term security. Clients who benefit from this barrier type include:
Construction companies. Construction takes time, but not forever. Depending on the complexity of the project, you'll need to restrict access anywhere from a couple of days to a couple of years. Regardless of the time involved, it's essential to both productivity and safety to keep non-workers out of your job site. Likewise, you'll need safety barriers that can be easily removed when the job's done.
Public events. Is your community hosting a golf tournament or a public barbeque? If so, there'll be crowds and possibly even some vehicular traffic that needs guidance—only until the event is finished, that is.
Commercial events. A popular comedian's performing at your local rec center this weekend? Once again you'll need temporary fencing to help guide pedestrians and traffic. But as soon as the weekend's up, there'll be no need for barriers in the parking lot.
Private events. If you're renting out a building or a piece of land for a private event (such as a wedding), you'll need temporary fencing with a gate to filter invited guests.
In situations such as these, organizers need security measures that not only help keep out unwanted personnel but which can be assembled/disassembled in a timely manner. (What's the point of blockading a parking lot year-round for events hosted once every few months?) Now that we've established the general use for temporary fencing, let's delve into why 8' chain link panels are the fence type of choice.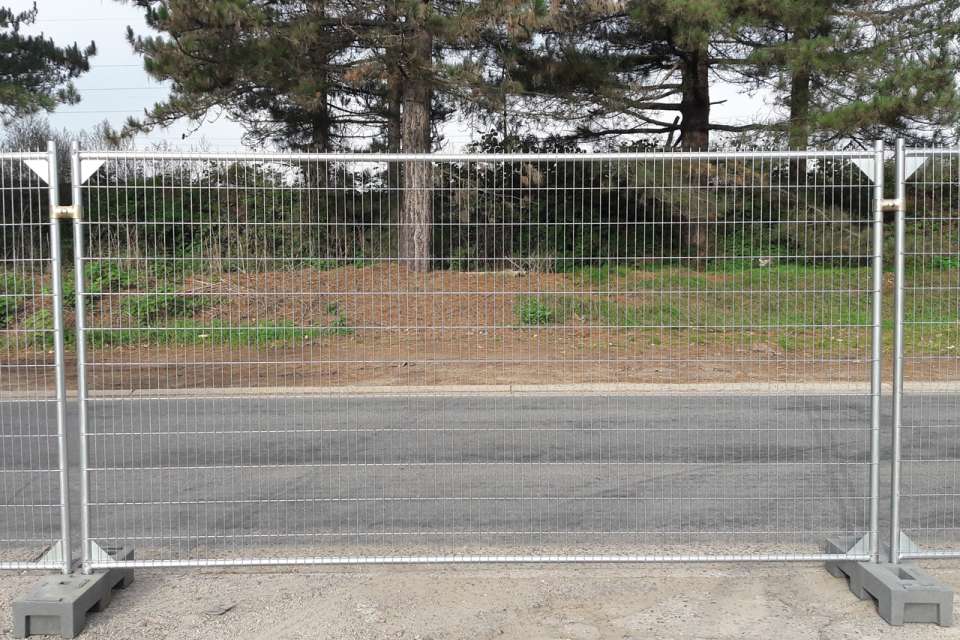 Why should I use American Fence Rental's 8′ chain link temporary fencing in Fargo?
Chain link fencing is a time-tested security staple worldwide. The diamond-shaped gaps in the mesh are too narrow for people and large animals to squeeze through; and yet, they're large enough to permit visibility and ventilation. For this reason, chain link's also a viable form of temp fencing. Consider construction sites, for instance. The very nature of construction—the tearing apart of terrain and the pouring of materials—inevitably churns up dust and debris. This can lead to health hazards and diminished productivity when the work zone's contained within solid privacy fencing. The debris, unable to escape, clogs the air, hampering visibility and making the air difficult to breathe. And once your crew's unable to work efficiently, the project will likely fall behind schedule.
However, this is not a problem with chain link fence panels: the dust escapes through gaps in the mesh. And, once again, when the job is done, the fence can be taken down so as not to be a hindrance to the property owner.
At eight feet in height, these panels are sufficient for crowd control. But if you desire additional security (in the event that someone tries climbing the fence or using a ladder to clear the top), American Fence Rental offers security additives. For instance: barbed wire lining the top of your temporary chain link fence goes a long way in deterring intruders.
How are temporary chain link fence panels installed?
As the premier temp fence contractor in Fargo, American Fence Rental installs chain link panels using one of two methods:
Post driven. With this option, the posts of your chain link fence panels are drilled and set into the ground. The ideal method for strength and longevity, post driven is commonly used for jobs requiring lengthier fence usage—such as construction zones. However, there is another choice which does not involve tearing apart the ground.
Freestanding posts. If your situation doesn't allow drilling into the ground—say, the property owner's granted permission to stage an event but not to alter the terrain—the freestanding fence installation method is your best choice. As the name implies, the posts rest on a series of stands, which in turn are anchored using sandbags.
Having delved into the pros of both post driven and freestanding installation, the next logical question is: which works best for you? If you need non-permanent fencing for several months or longer, post driven is the best choice. However, if you only need barriers for a couple of days, we recommend freestanding. Freestanding is also viable for clients regularly reassembling or relocating their fencing. Is the project area regularly getting larger or smaller? Need some additional fencing to section off a particular area? Does your schedule include a series of consecutive jobs that all require fencing? These are all situations where freestanding becomes the most practical enclosure choice. Because they're not drilled into the ground, these panels can be very quickly disassembled and transported.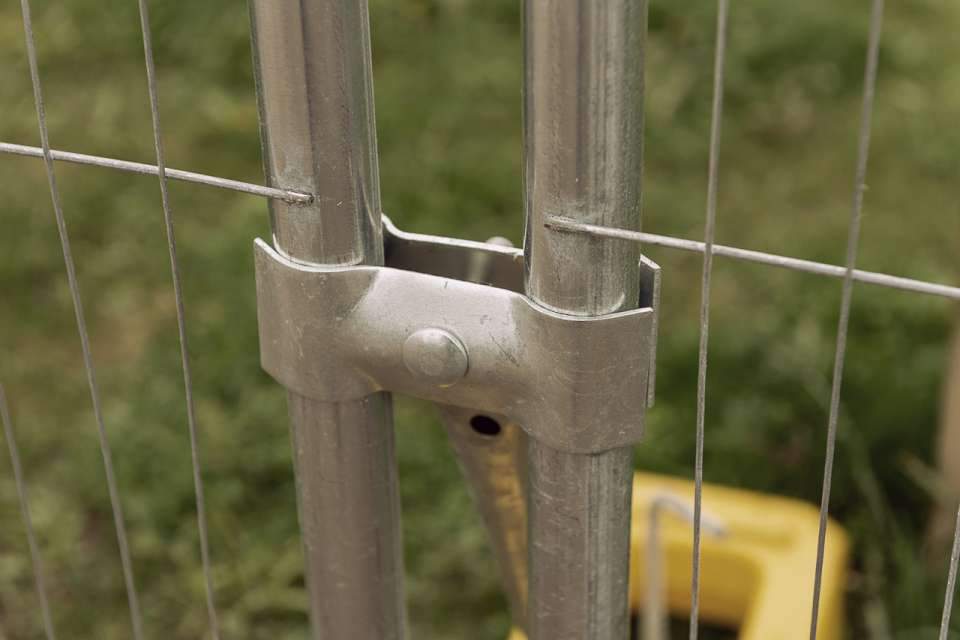 Should I purchase or rent temporary fence panels?
Once again, the decision boils down to your particular situation. If you see yourself needing temp fencing on even a semi-frequent basis (say, two or three times a year), you can save yourself money by purchasing panels rather than continually renting them. (As mentioned earlier, our panels are easily disassembled and easy to transport.) Of course, if you only need the fencing for a one-time deal, renting might be your preferred choice.
Why American Fence Rental of Fargo?
As we mentioned at the top, no two fence contractors in Fargo are created equal. In our mission to provide top-quality service, American Fence Rental has partnered with reputable manufacturers around the globe to acquire the best chain link material available. Our fabrication team undergoes rigorous in-house training, taught the ins and outs of temp fence installation. We also offer the following:
Windscreens. On windy days where it's helpful to curb air movement inside an enclosure, windscreens are a game-changer. They're also ideal for public events due to their customizable fabrication: at your request, our staff can illustrate them using different colors and images. What better way to represent sponsors than fencing that literally everyone at the event must pass.
Temp fence storage. Interested in purchasing chain link temp fencing but do not have sufficient space to store it? American Fence Rental will store your panels for up to a year—and for a one-time cost!
Temp fence repair and replacement. Fencing on a job site might sustain damage now and then. Should damage occur before the job is done, it's important to have your fence repaired. As mentioned above, our staff has been trained in all aspects of fence fabrication. There is no one more qualified to mend damaged fencing than our certified team!
Temporary fence gates. If you have a temporary fence, you'll need a temporary gate to go along with it. This is another line of products that American Fence Rental specializes in. Pedestrian gates, vehicle swing gates, vehicle slide gates—we've got it all!